Dear customers!
Due to some technical issues we are in English only. If you experience any difficulties please send us a message – click here or use our email-address order@cecconi.shop. Thank you.

Liebe Kunden!
Wegen technischer Probleme sind wir derzeit ausschließlich in englischer Sprache unterwegs. Wenn Sie auf Probleme stoßen, senden Sie uns bitte einfach eine E-Mail – Links finden Sie oben. Danke.
Dear customers, welcome to the Cecconi online store!
Our online choice of products includes the whole range of ANRI wood carvings like the renowned nativities by Ulrich Bernardi , Prof. Karl Kuolt and Juan Ferrandiz, the charming figurines by Sarah Kay and Juan Ferrandiz, and a great variety of pewter ornaments and figures, as well as profane and religious wood carvings.
Please enjoy browsing our online store and the great products we offer, and make sure to bookmark this site as we will continuously expand our range of products. Find a few things that our satisfied customers say below.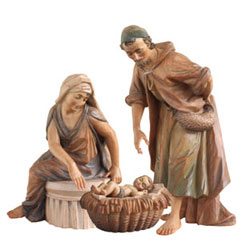 ANRI Nativities